Listen on...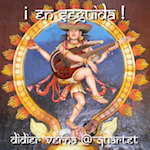 ¡En Seguida!
Didier Verna @-quartet
Didier Verna (guitars, sitar, synth-guitar, vocals, programming, composition), Laurent Epstein (piano), Yoni Zelnik (upright bass), David Georgelet (drums).
Guest: Solange Vergara (vocals), Guillaume Kervel (steel drums).
French guitarist and composer Didier Verna brings us a third opus with "@-quartet", a group founded with the motto of never remaining a prisoner to style, and once again broadens the musical field of possibilities, by drawing a Hispano-Indo-Caribbean line (so to speak). A "trans-geographic" album, therefore, offering thirteen original new compositions with exotic sounds, and for which the quartet has been enriched with two special guests (voice and steel drums). Contemporary Jazz resolutely open to the world, a modern repertoire joyfully blending ternary rhythms, flamenco, and mazurka piké, a music that literally sings the marriage of steel drum and electric sitar. This is what ¡En Seguida! offers up to you. Enjoy your trip...
This album is dedicated to the memory of Thierry Lalo.
Excerpt from the booklet: "It was two years ago, almost to the day. I was beginning to think about the third album from the @-quartet, aiming to continue to develop the opening of the repertoire on latin and carribean ambiances, to work even harder on the sound, whether global or purely guitaristic, and I might add, to make the music even more "singing".
By a curious and terrible coincidence, it is at that precise moment that I learnt, from Solange Vergara, the passing of Thierry Lalo. That news was all the more brutal that we hadn't seen each other for some time, and I was not aware of his condition.
In spite of that recent distance, Thierry and myself were quite close, and I owe him a lot as a musician: my four years in the Voice Messengers, numerous musical encounters, including those which gave birth to the @-quartet. He was in the audience for the first live concert of Roots and Leaves, my second album...
Thierry Lalo was notably the founder of the Voice Messengers, also pianist, arranger, conductor and producer of the band. Above all, he was my friend. Dedicating this new recording to him was both natural and obvious."
¡En Seguida! was released on November 16 2020, second anniversary of his passing.
Copyright © 2020 DVL Records. DVL1120JZ.
EAN-13 (CD): 0745125589435.
EAN-13 (Digital): 4061798766185.
¡En Seguida! Tour
(under construction)
May 21 2022, Fontainebleau
February 9 2022, 21:30, Sunside, Paris
Official album release concert
November 22 2022, 21:30, Barbizon, Paris
March 25 2023, 20:30, M8 Live Club, Mainz, Germany
(Waiting) 2023, Chevreuse
(Waiting) 2023, Espace Julio Gonzalez, Arcueil
Cultural season opening
Jacques Pauper — Couleurs Jazz

"Didier Verna and his deluxe quartet. A Jazz heavily tainted with andalousian and indo-carribean musics. Pur Jazz, in any case. All the colors of Jazz."
Bruno Heuzé — Opus Jazzis

"A trans-geographic inspired album, where a hispano-indian diagonal of some kind would seem to have been drawn between the Carribean and the Bay of Bengal."
Jack Bowers — All About Jazz

On ¡En Seguida!, its third album as a unit, French guitarist Didier Verna's astutely-named @-quartet is lyrically clever and charming, rhythmically sharp and strong, and never banal or boring. One reason for this is the many bright and pleasing sounds Verna coaxes from his guitars (regular and fretless), guitar synth and sitar; a second is his remarkably keen ear for melodies that linger in the ear and invite repeated listening. Besides leading the ensemble, Verna, a professor of computer science by day, wrote every one of the album's thirteen handsome and hummable tunes.
Third, and no less indispensable, is the quartet's superlative rhythm section, which works tirelessly to breathe life into Verna's irrepressible themes and make them dance. Bassist Yoni Zelnik is rock-solid, drummer David Georgelet alert and enterprising, pianist Laurent Epstein a splendid accompanist and spellbinding wizard with his right hand in the spirit of Hank Jones, Barry Harris or Tommy Flanagan—so eloquent and tasteful that his solos are eagerly anticipated and warmly received. Never one to be outpaced, Verna is a similarly sharp and engaging improviser, no matter which instrument he chooses (and that is not always easy to pin down).
The quartet adds fresh color on four numbers via the wordless vocals of Solange Vergara and Guillaume Kervel's ringing steel drums. Vergara sings on "Un Sueno", Kervel thrums on "La Deuxieme Waltz", and both perform on "Pacific Kesa" and the closing "Spring". Good as everyone is, it is Verna's exquisite melodies that raise the session beyond satisfying to superb. From "Lost Highway" to "Stair Blues", "November" to "Recuerdos de Abril" and everything in between, their buoyancy and charm are blissful and beguiling. Verna has dedicated ¡En Seguida! (in English, "Right Away!") to the memory of Thierry Lalo, founder and leader of the Voice Messengers, a vocal jazz big band of which Verna was a member. It is hard to envision a more earnest or compassionate tribute.
The @-quartet
The @-quartet (pronounce "at quartet" as in an email address; a wink to his second job) was created by its leader, Didier Verna (guitars, composition), with as a founding principle a fierce desire never to be locked into a particular style. At the risk of paraphrasing Michel Petrucciani, the @ -quartet, "is this rude guest who tries to sit at all the tables"...
Mainly "@-coustic" (second meaning of its name), the band's repertoire, constituted of original compositions exclusively, demonstrates the very broad extent of the musical influences of its founder. Ternary rhythms with varied tempos rub shoulders with ballads, themselves flirting with Latin and Caribbean moods, and that is when the whole thing doesn't turn "free".
In addition to all these tables at which the repertoire sits shamelessly, it is also the sound palette of the group, deeply cross-border, which makes its specificity. Beyond a classical rythmic section (piano, upright bass, drums), Didier Verna paints, in some way, soundscapes that are specific to each piece, by using many guitars with different sounds (this is his completely assumed "geek" side): electric, electro-acoustic, fretless, synth-guitar, sitar, etc. Finally, the orchestration is occasionally embellished with special guests (vocals, steel drums) which come to complete (or, should we say, sign) the "universal declaration of non-compliance" which constitutes the only official rule of this ensemble.
But we are more than the sum of our influences. The very large sound, rhythmic, harmonic, and melodic diversity of the repertoire does not in any way affect its consistency, as the character of its leader is so strong, in terms of composition as well as improvisation. Besides, by enlisting the best rhythm section one could hope for, Didier Verna also wanted to let the music express itself. To impose only a few things and let the personality of each musician flourish, allows a music to emerge, which is not necessarily the one that was originally expected.
Didier Verna
Didier Verna is a French Jazz guitarist, singer and composer, alternating his musical career with that of a professor of computer science (and also that of an Aikido teacher). Involved in music since the age of 5, he has studied music theory, percussion, piano and eventually guitar.
As a singer, he was part of the Voice Messengers, a world-renowned vocal Jazz Big Band led by the late Thierry Lalo. As a guitarist and composer, he has founded and leads the @-quartet (Laurent Epstein / piano, Yoni Zelnik / upright bass, and David Georgelet / drums), a band with which he has released three albums of original compositions ("@-quartet", "Roots and Leaves", and "¡En Seguida!").
Today, he aslo serves as an occasional presenter for the Opus Jazzis radio show on IDFM 98.0 (Radio Enghien).
He has also played and / or recorded with important personalities of contemporary Jazz, such as Antoine Hervé, Glenn Ferris, Gilles Naturel, François Laudet,Andréa Michelutti, Déborah Tanguy,Sonia Cat-Berro, Yves Carbonne (Carbonne / diPiazza / Manring), Denis Gouzil (Cie Lubat), etc.
Meet Didier Verna and the @-quartet on...
Press
High Resolution Images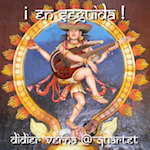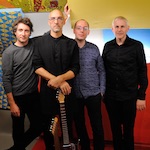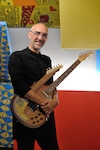 Previous Albums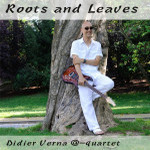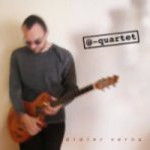 Stage
Minimum 10m2 in quartet (13m2 with the album's guests), for a baby grand piano configuration (to be modulated depending on the kind of piano available). Whatever the configuration, the stage must be at least 2m2 deep.
Backline
Drums

« Jazette » format with white skins.

18' bass drum
14' snare drum
12' high tom
14' floor tom
3 cymbal stands

David Georgelet comes with his own cymbals.

Double Bass

If possible, a double bass on site (transporation by train has become extremely difficult).
Small amplifier, Gallien Krueger type.

Piano

Grand piano (baby grand or bigger) tuned at 440Hz. If not possible, very good upright piano. As a last resort, electric piano on the condition that it has a very good touch. Preferably Steinway, Fazioli, Bosendorfer...

Guitar

Important: Didier Verna does not use an amplifier, but instead plugs directly into the console.

Provide 2 tracks for the guitar (stereo pre-mixed guitar and synthesizer), XLR if possible, Jack otherwise.
Also provide a very good stage monitor with a specific mix for the guitar (substitute for a guitar amplifier).
Travelling
Individual rooms in case of on-site accomodation.